What is Chamomile tea?
The potency of various chamomile teas varies, with some containing significantly more chamomile than others. The more potent teas are also more likely to cause side effects in people who are vulnerable to them. Consequently, it is safest to start with a low dosage and work up to larger doses slowly.
Chamomile contains chemicals called flavonoids. These flavonoids are a type of nutrient present in many plants, and they play a significant role in chamomile's medicinal effects.
Researchers are not sure yet what other chemicals are present in chamomile specifically and account for its benefits.
Cancer treatment and prevention
Some studies suggest that chamomile tea may target cancer cells, or even prevent those cells from developing in the first place. However, research so far is inconclusive, and scientists say more work is needed to prove chamomile's anti-cancer claims. Also, most research has looked at clinical models in animals, not humans.
A 2012 study compared the cancer-fighting powers of marigold and chamomile teas. Both were able to target cancer tumors selectively, but the effects of marigold tea were more potent.
Cancer-related effects of eating chamomile
Apigenin has been shown to induce apoptosis in human skin, thyroid, gastric, liver, colon, cervical, and prostate cancer cells, and to inhibit migration and invasion of ovarian cancer cells. Apigenin has also been shown to exhibit potent growth-inhibitory effects in HER2+ breast cancer cells. The growth-inhibitory effects of apigenin are less powerful for those cells expressing normal levels of HER2/neu. Luteolin has been shown to induce apoptosis in oral cancer calls, to promote cell cycle arrest and apoptosis in colon cancer cells, and to inhibit insulin-like growth factor 1 receptor signaling in prostate cancer cells.
A major Italian population study including 2,569 women with breast cancer found that the risk of breast cancer was reduced for increasing intake of flavones (e.g., apigenin, luteolin, tangeritin) and flavonols (e.g., quercetin, patuletin, myricetin, kaempferol), including those found in chamomile.
Other Benefits of Chamomile tea
The potential benefits of chamomile tea, for which there is the most evidence, include: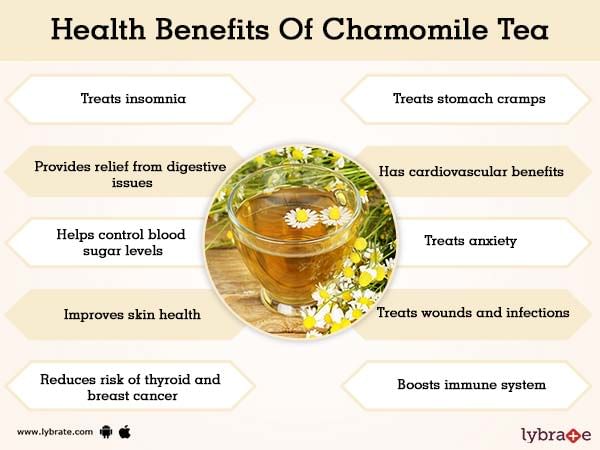 1. Reducing menstrual pain
Several studies have linked chamomile tea to reduced severity of menstrual cramps. A 2010 study, for example, found that consuming chamomile tea for a month could reduce the pain of menstrual cramps. Women in the study also reported less anxiety and distress associated with period pain.
2. Treating diabetes and lowering blood sugar
Again, some studies have found that chamomile tea can lower blood sugar in people with diabetes. Research does not show that chamomile is a viable substitute for diabetes medications, but it may be a helpful supplement to existing treatments.
Similarly, a 2008 study of rats found that consistent consumption of chamomile tea might prevent blood sugar from increasing. This effect reduces the long-term risk of diabetes complications, suggesting that chamomile could improve diabetes outcomes.
3. Slowing or preventing osteoporosis
Osteoporosis is the progressive loss of bone density. This loss increases the risk of broken bones and stooped posture. While anyone can develop osteoporosis, it is most common among post-menopausal women. This tendency may be due to the effects of estrogen.
A 2004 study found that chamomile tea might have anti-estrogenic effects. It also helped promote bone density, but the study's authors caution that further research is needed to prove this apparent benefit.
4. Reducing inflammation
Inflammation is an immune system reaction to fight infection. Chamomile tea contains chemical compounds that may reduce inflammation. However, long-term inflammation is linked to a wide range of health problems, including hemorrhoids, gastrointestinal pain, arthritis, autoimmune disorders, and even depression.
5. Helping with sleep and relaxation
Chamomile tea is widely thought to help people relax and fall asleep. Few clinical trials have tested this, however.
In one review of the current evidence, 10 of 12 cardiovascular patients are quoted as having fallen asleep shortly after consuming chamomile tea. A handful of other studies looking at clinical models also suggest that chamomile tea may help people relax.
In a study using rats, chamomile extract helped sleep-disturbed rodents fall asleep. Many researchers believe that chamomile tea may function like a benzodiazepine. Benzodiazepines are prescription drugs that can reduce anxiety and induce sleep. Some research suggests that chamomile binds to benzodiazepine receptors.
A review looking at the ability of chamomile tea to reduce anxiety is inconclusive. Some studies show a modest anti-anxiety benefit, but others do not.
6. Treating cold symptoms
Anecdotal evidence and some studies suggest that inhaling steam with chamomile extract can relieve some of the symptoms of the common cold. But this benefit is not proven yet.
7. Treatment for mild skin conditions
A small 1987 study found that applying chamomile extract directly to a wound assisted healing. Likewise, a few studies have found that chamomile ointments may help with eczema and mild inflammatory skin conditions, although they are not as effective as hydrocortisone cream.
Who should avoid chamomile tea?
The following groups should avoid chamomile unless advised otherwise by a doctor:
People with a history of severe allergies, particularly to pollens: Chamomile may be contaminated with pollen from other plants so can cause an allergic reaction.
People who have previously had an allergic reaction, even mild, to chamomile products: They should avoid chamomile, as allergic reactions can get worse with time.
Infants and very young children: Chamomile tea, similarly to honey and some other natural products, may be contaminated with botulism spores. Most healthy adults can fight off the infection, but infants may not be able to. Many doctors recommend infants and young children avoid honey, and they should also avoid chamomile products.
It is also not safe to use chamomile as a substitute for proven medical treatments. If someone is taking any medications, they should ask their doctor about potential interactions with chamomile tea.
Takeaway
Chamomile tea has been used in folk medicine for thousands of years, often with encouraging results. For now, however, it remains a supplement and not a medication.
People interested in trying chamomile tea should use it as a supplement to, and not a replacement for their usual medication regimen. In regular doses, such as 1 to 2 cups a day, it is possible to see incremental health improvements.
@cancerqueries.com